NOT JUST ANOTHER MAGICIAN – GET READY TO EXPERIENCE THE FRESH, FUNNY, & UNFORGETTABLE…
ALEX MEHL!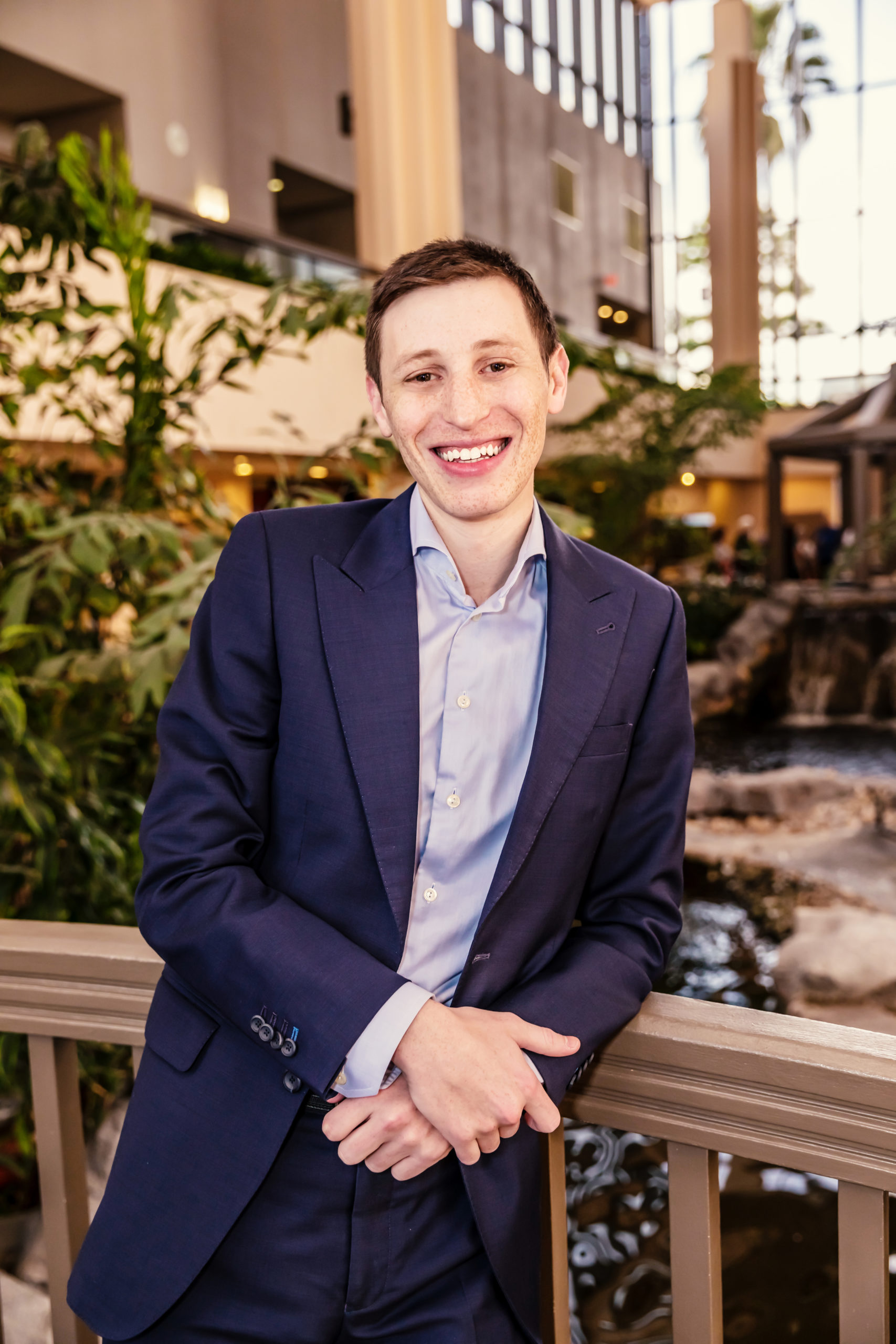 Dear Event Planner,
Just when you thought you've seen all the boring tricks… heard all the cheesy magician jokes and just about the time your guests are ready to take out their phones and zone out… ALEX MEHL is about to take your party atmosphere from Zero to Sixty!
Planning an event takes so much time and requires so many critical decisions that it can feel like a daunting task, right? Well, hiring the right entertainer is critical to the overall success of your special day and is one of the biggest tasks you can scratch off your to-do list.
It's important to hire an entertainer who can not only enhance your event, but also keep the kids laughing while engaging the adults all at the same time. No easy task – but we're about to take the mystery out of hiring that perfect event entertainment.
Alex Mehl has been entertaining audiences for over a decade. "Magic Mehl," aka Alex, is a professional entertainer based in the tristate area. Blending comedy and magic, Alex is best known for his ability to perform complex illusions. From children's parties to corporate retreats, from Eastern Long Island to the Middle East, Alex is internationally acclaimed for both his unique style and dazzling illusions.
WE LOVE WORKING WITH OUR CLIENTS.
HERE'S WHAT SOME OF THEM HAD TO SAY!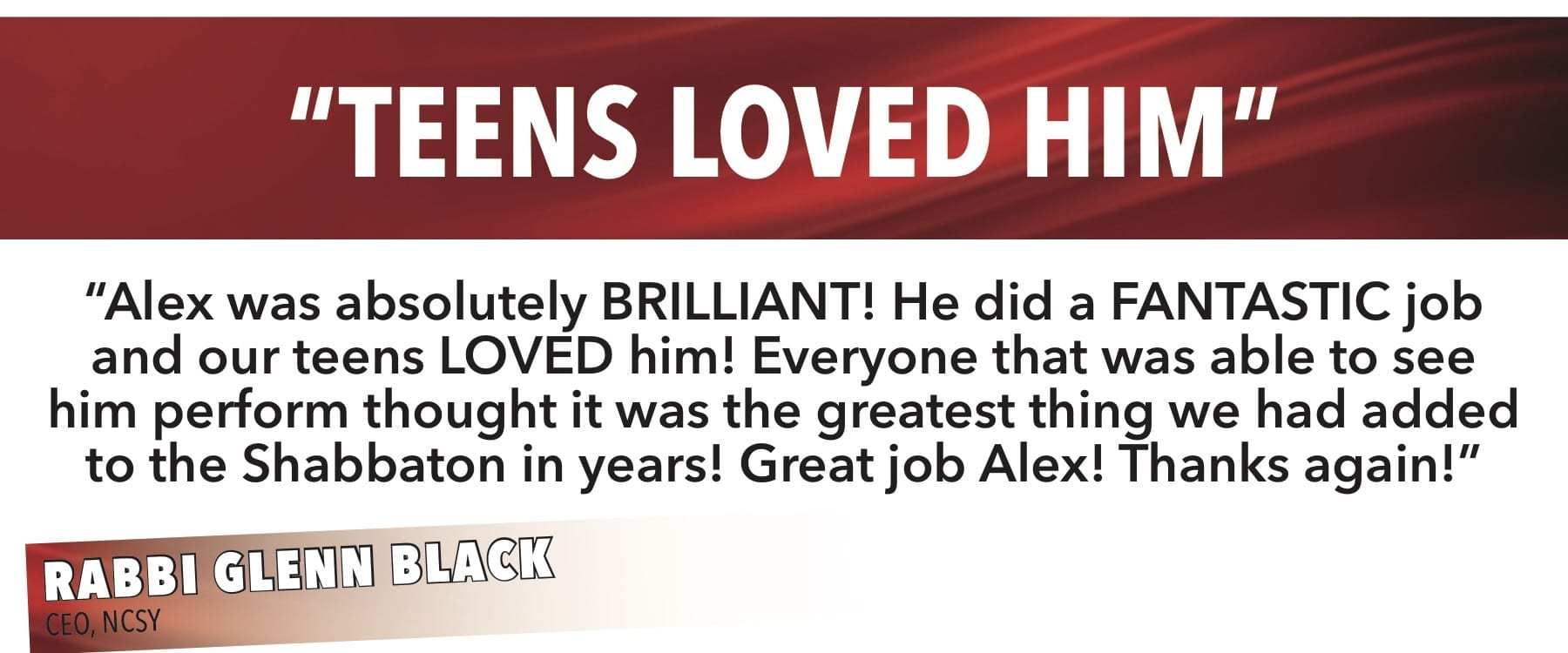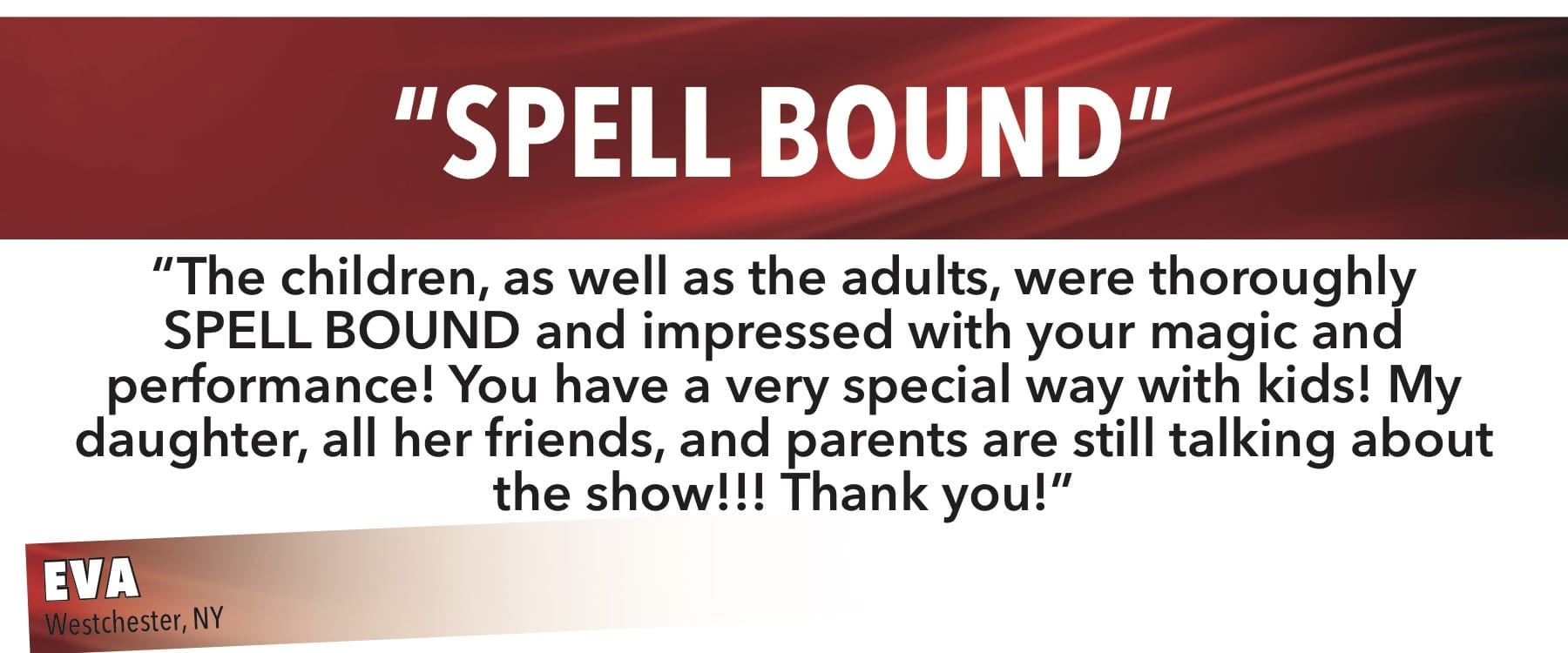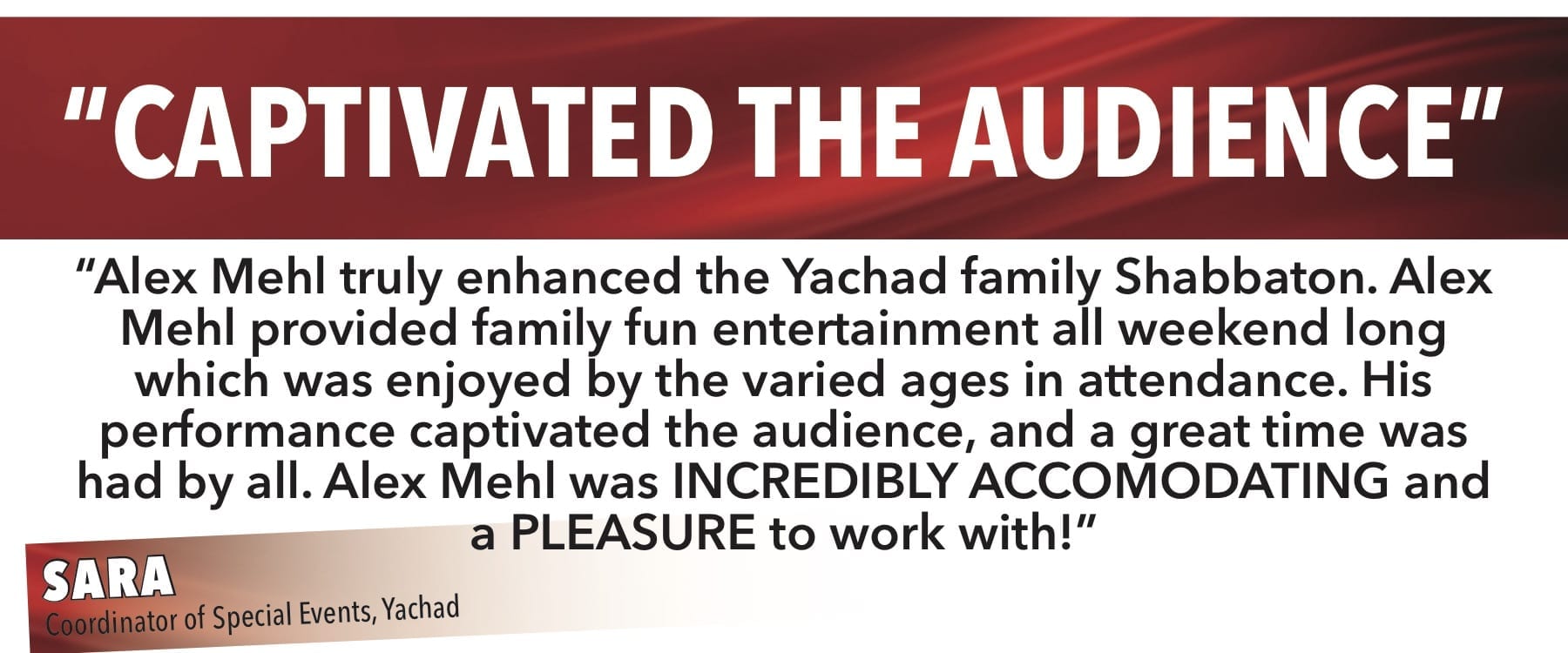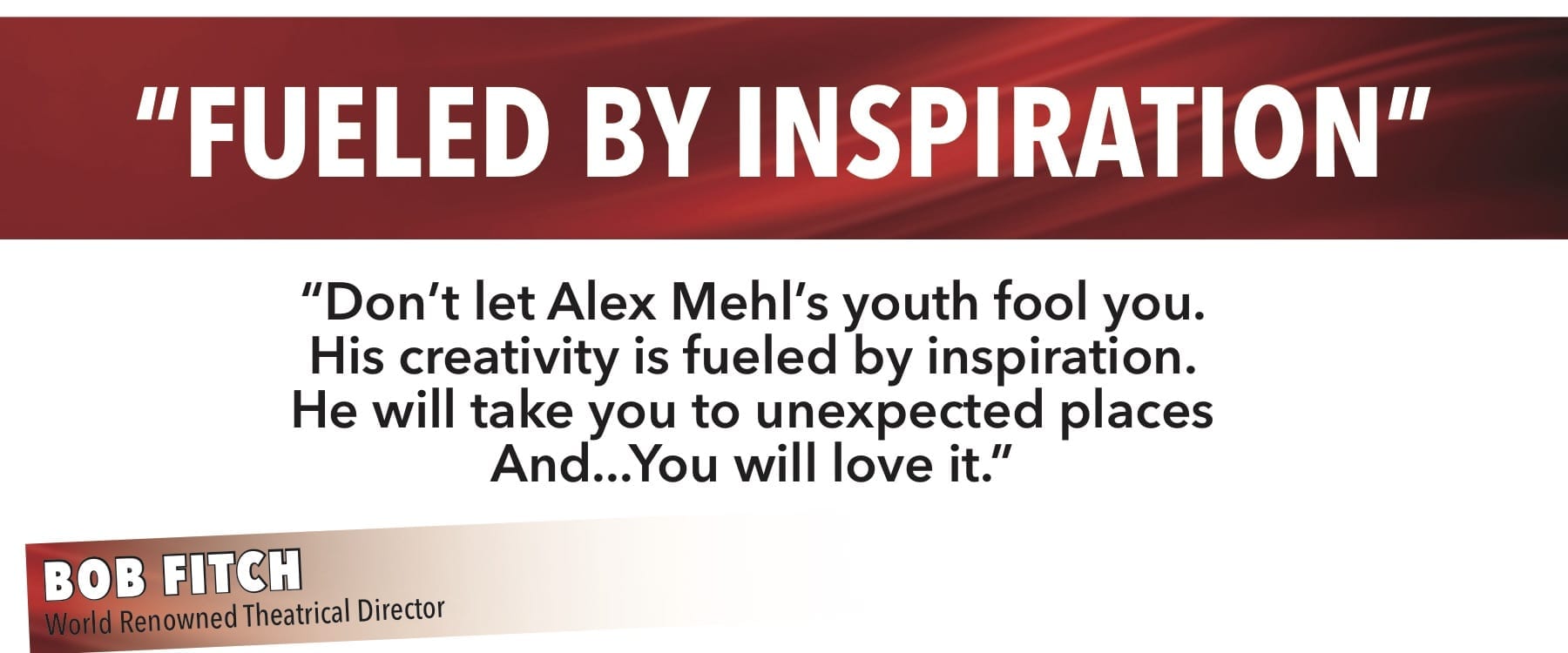 WHY CHOOSE ALEX MEHL FOR YOUR NEXT EVENT?
Flexibility
Not just one size fits all. Alex works with you to best suit your budget and needs.
"My philosophy is simple – it's all about the audience.  That's why we have designed our program to be so highly interactive."

– Alex Mehl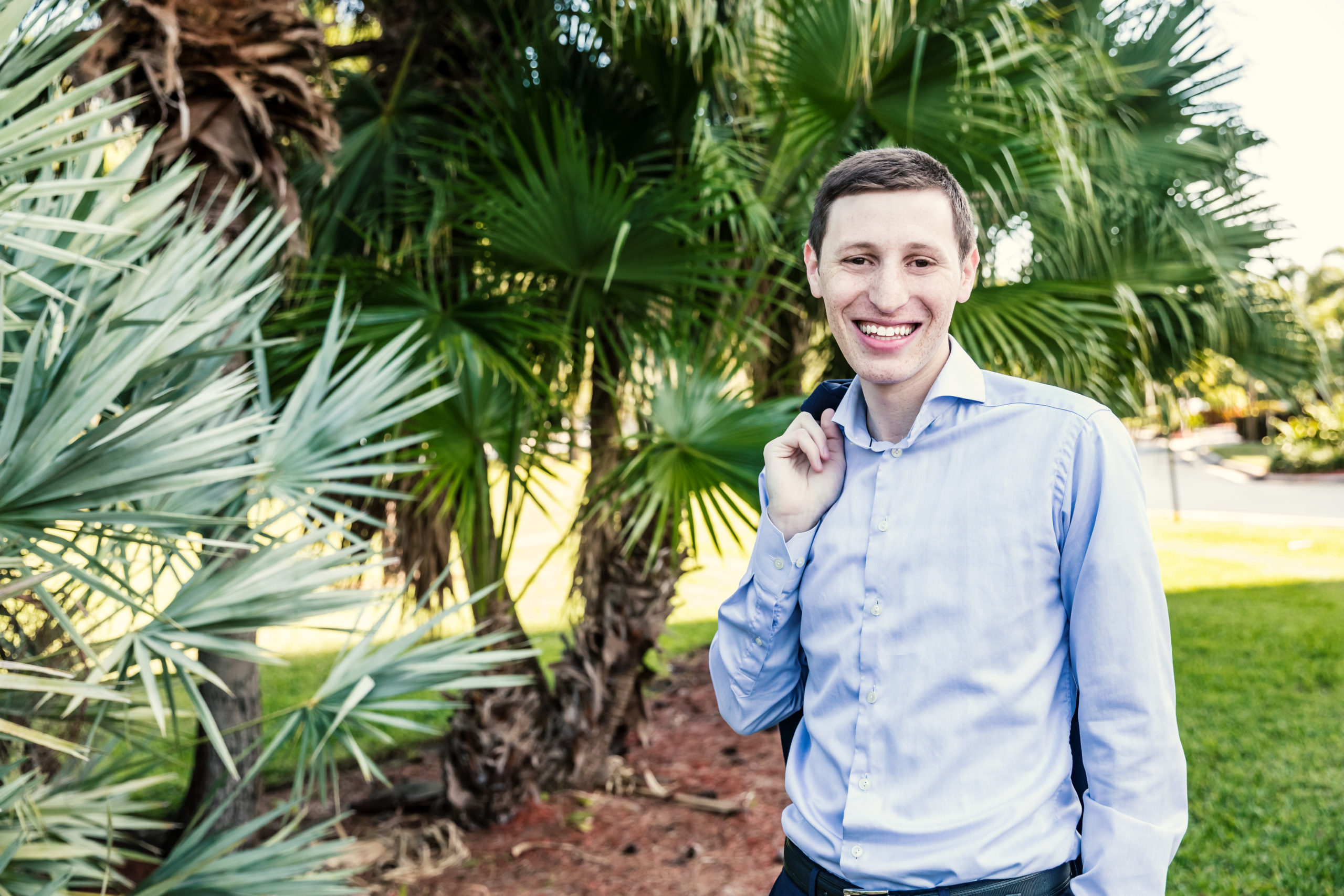 FIVE REASONS WHY ALEX IS DIFFERENT THAN EVERY ENTERTAINER
AND A PERFECT FIT FOR YOUR EVENT
Alex offers a 100% money back guarantee if you aren't fully satisfied with the show. (Which has never happened by the way!)
Alex guarantees to be there early enough before the event to ensure everything runs on schedule. No more waiting for the performer stressing out if the show will happen!
Alex promises to respond quickly to any calls, texts, and emails!
Alex will check in with you 3 days before the event to confirm all the details of the event and to make sure everything runs smoothly.
Alex will provide fun entertainment and a stress free planning experience. Guaranteed!
OK, THIS SOUNDS AWESOME.
WHAT SHOULD I EXPECT WHEN I HIRE ALEX MEHL FOR MY EVENT
Alex offers multiple packages so that there is a show for everyone. His shows range from small intimate experiences to grand theatrical extravaganzas where Alex brings theatrical lighting and performs illusions worthy of a Las Vegas stage.
One of the important factors in creating a special event is to make sure that your guests start having fun right away minutes after they arrive. Imagine your guest jaw dropping to the floor minutes after they've taken their seats as a 15 pound-bowling ball appears out of thin air and drops to the floor with a thump.
A table levitates just inches away from your face, no strings, no machines, an actual levitation happening at your event. And if that wasn't enough, wait till you hear the audience gasp as your friends and family have their thoughts read by Alex.
Expect wonder! Expect amazement! Expect thunderous applause!
Expect an experience that will be spoken about for a lifetime.  Simply incredible. It's true Alex will make objects appear and disappear but more importantly he'll make your stress disappear because you will have hired an entertainer your guests love.
But now you are thinking, "all that is great, but can Alex saw a kid in half."
Yes.
Alex performs illusions that have never been seen perform, including cutting a kid from the audience in half! (Actually, in thirds.) Your friends and family will never believe their eyes or forget this moment.
Don't worry. Alex will put the child back together, if you want…
You can have the Magic of Alex Mehl there with you. His Fresh and Funny Unforgettable magic is so unique as he delivers like no other entertainer.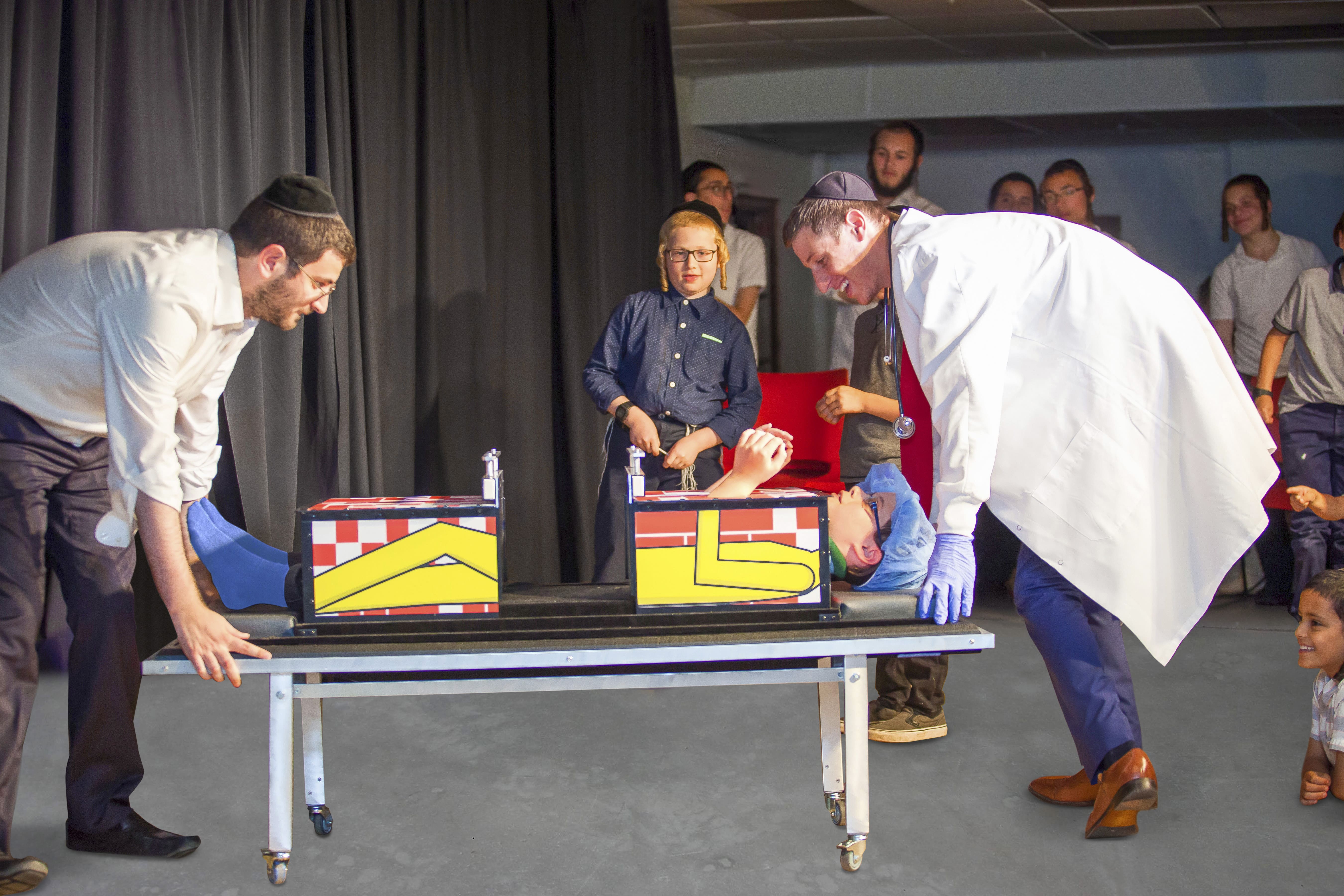 SOUNDS GREAT!  WHAT DO I NEED TO PROVIDE?
Glad you asked. The answer – NOTHING!
Alex makes it simple for you by bringing his own staff and equipment.
Booking Alex Mehl is HASSEL & STRESS FREE!
When you hire Alex, you can rest assured you have made the right choice…the PROFESSIONAL CHOICE. From your first phone call or email all the way to the personal follow up, Alex prides himself with impeccable attention to detail.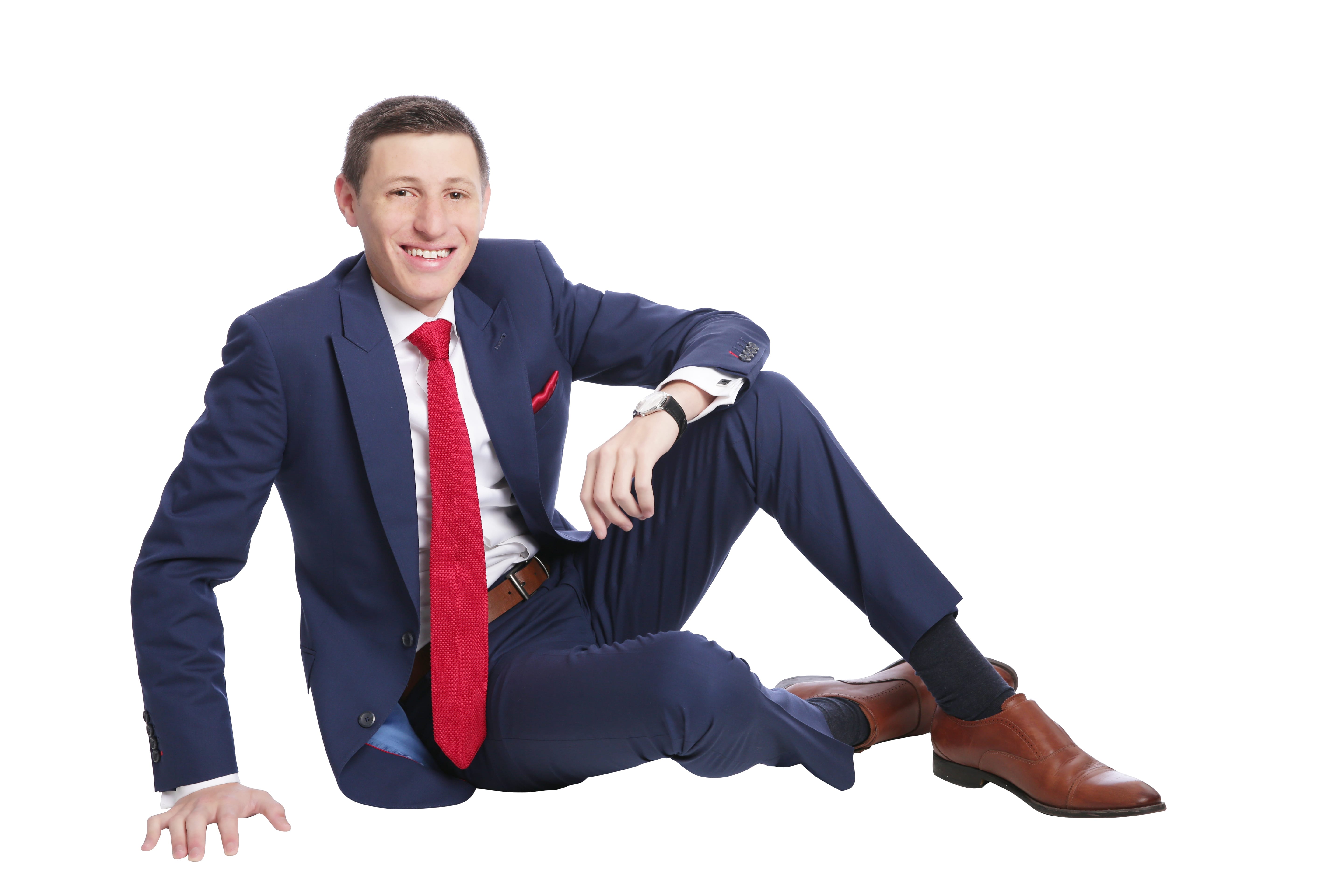 SEE SOME MORE OF OUR SATISFIED CLIENTS!
Regardless of which package you choose you will be getting the very best Alex Mehl experience. Alex delivers 150% at every performance regardless of the size.
Take a look at our options below.
Our entry level package will deliver fun entertainment for the event on a budget. This show can be set up & performed just about anywhere and under most conditions.
It is best suited for small venues or events looking for a fun, intimate experience. The Gold program features lots of comedy magic, audience participation, and your guests are guaranteed to walk away smiling!
Your investment:
This package includes everything from the Gold package and much more! Alex brings a minimum of two assistants to guarantee that this grand show is set up on time without being any hassle to you or your guests. We bring a professional audio set-up, backdrop, and our own custom lighting system transforming your venue into a theater!
When your guests walk into this show, they will feel like they entered a showroom, not just an "all purpose room" in the building. Everyone will be amazed by how much music and lights add so much to the show!
Also included are big Las Vegas style illusions that we guarantee nobody has ever seen. Alex can make one the kids float in midair! Or imagine Alex levitating a table inches from your face and then with no tricky moves making that very same table vanish!
Amazing!
This is our most popular package and is designed for the event truly looking to create the biggest event of the year.
Your investment:
The Alex Mehl Magic Academy
We are thrilled to add an all new program to our summer program line-up this year – our Alex Mehl Magic Academy. Campers will discover the secrets of magic in a behind the scenes workshop with master magician Alex Mehl.
Excited Campers will learn the age-old secrets of magic as we turn kids into magicians in no time as Alex expertly shares techniques of magic, sleight of hand, illusion, and showmanship. Your kids will experience an environment that will enhance their creativity and imagination as they begin to perform themselves what they thought moments before…was the impossible.
The workshop aims to give your campers the confidence they need to perform for their friends and family (which they will be able to do by the end of the end of the workshop), and help them develop skills that most other peers don't have. Everyone will walk away with a sense of accomplishment and a smile that will be impossible to make disappear!
Some of the benefits of bringing the Alex Mehl Magic Academy to your summer camp are:
• A turnkey program
• Enhances creativity and imagination
• Builds confidence and dexterity
• Easy for kids to learn
• A truly fun camp activity
And so much more!
Call us TODAY at 516-415-2418 or email [email protected] to check availability, pricing, and get more info about this truly unique summer program.
If you are looking for something beyond our standard packages such as close up strolling magic or you are working with a very specific budget, don't hesitate to call us today at 516-415-2418 so we can learn more and create a customized event proposal!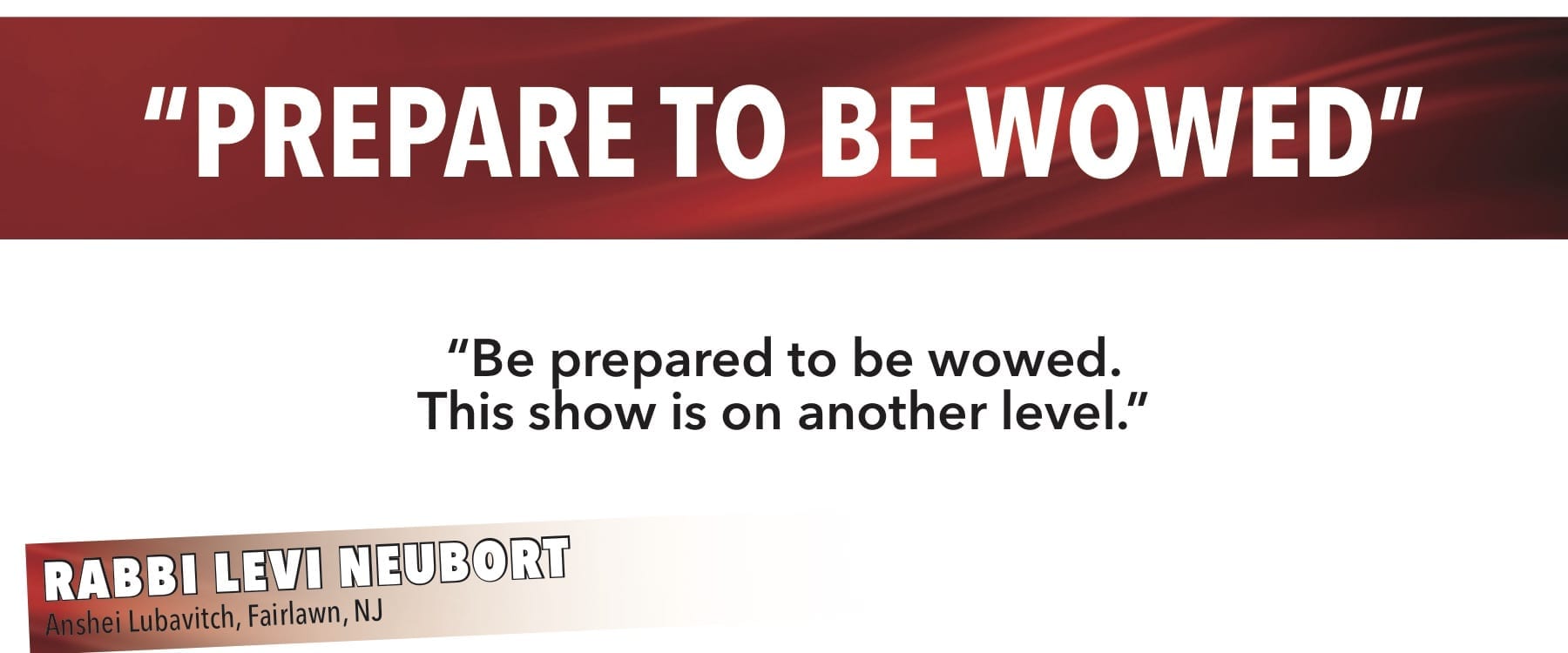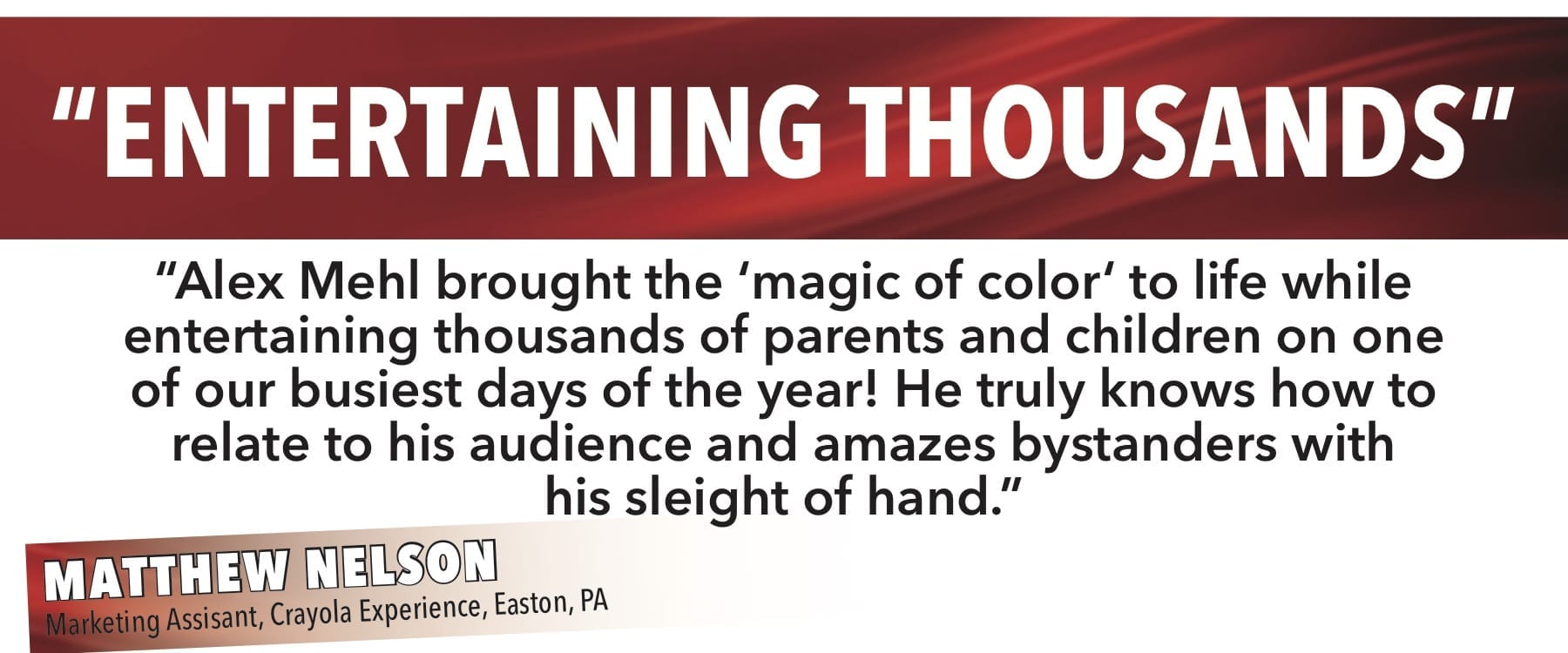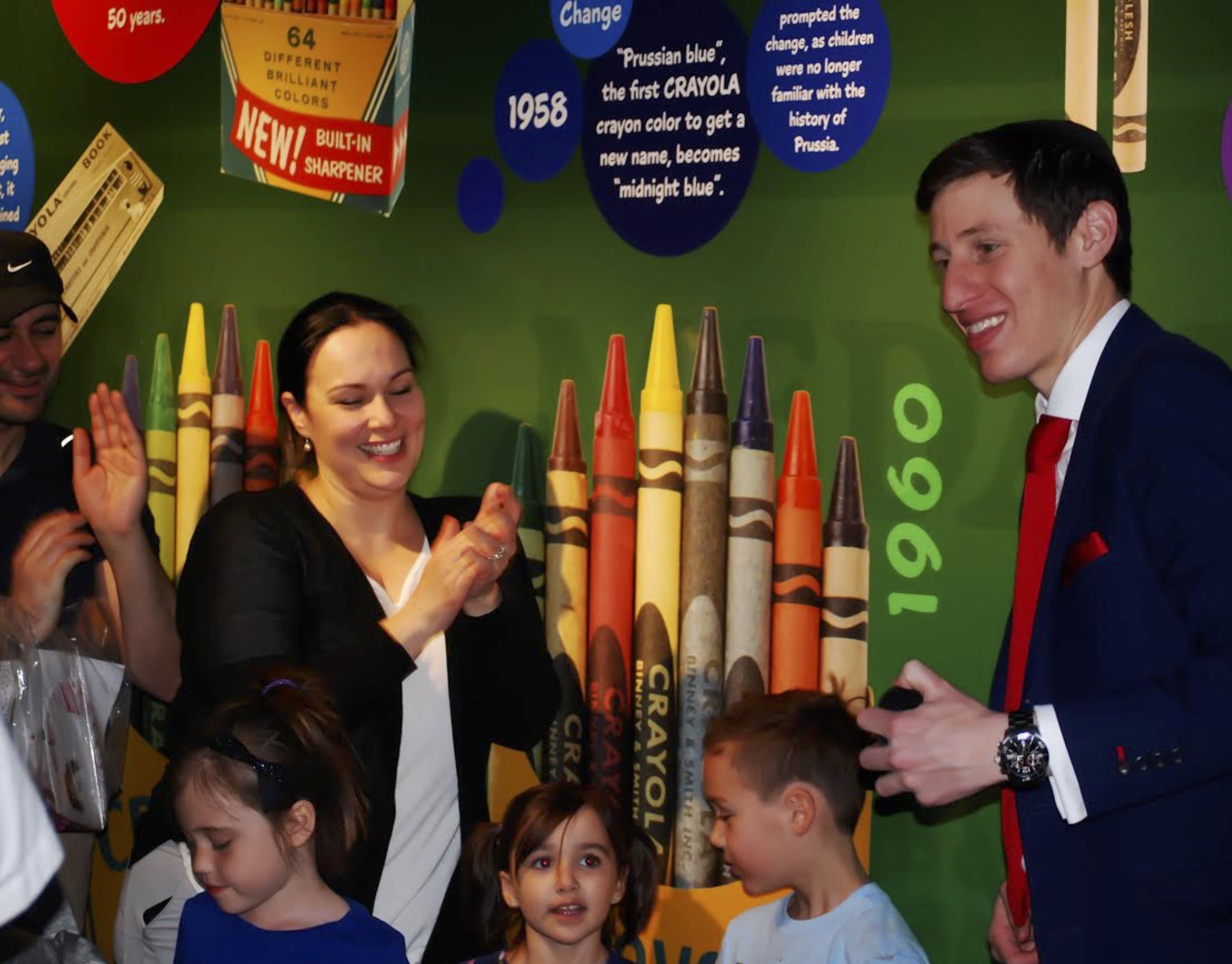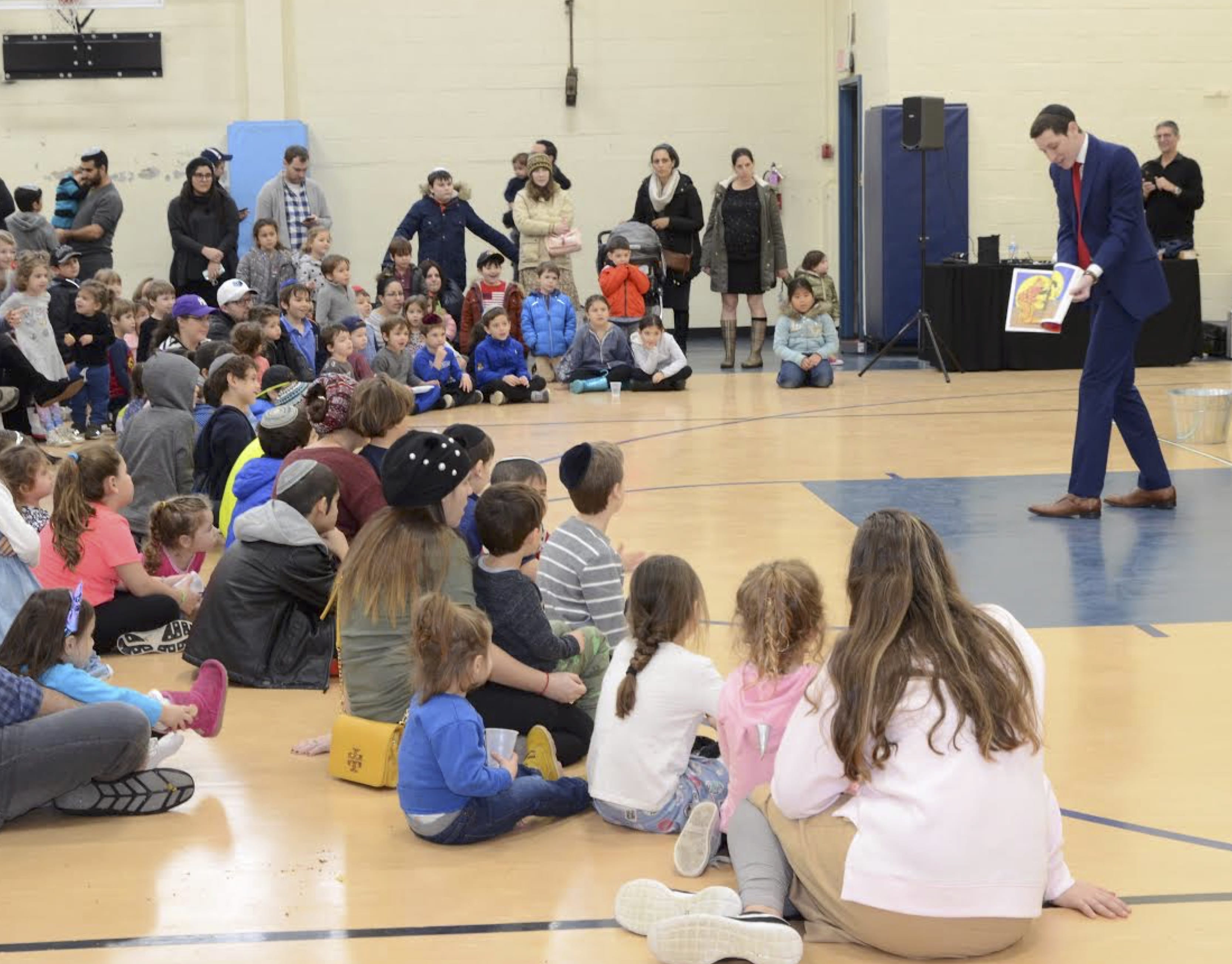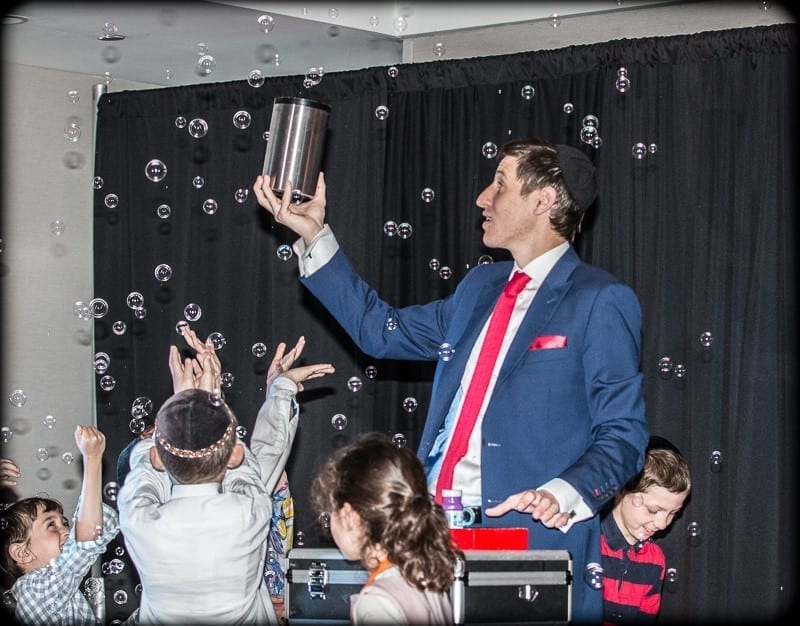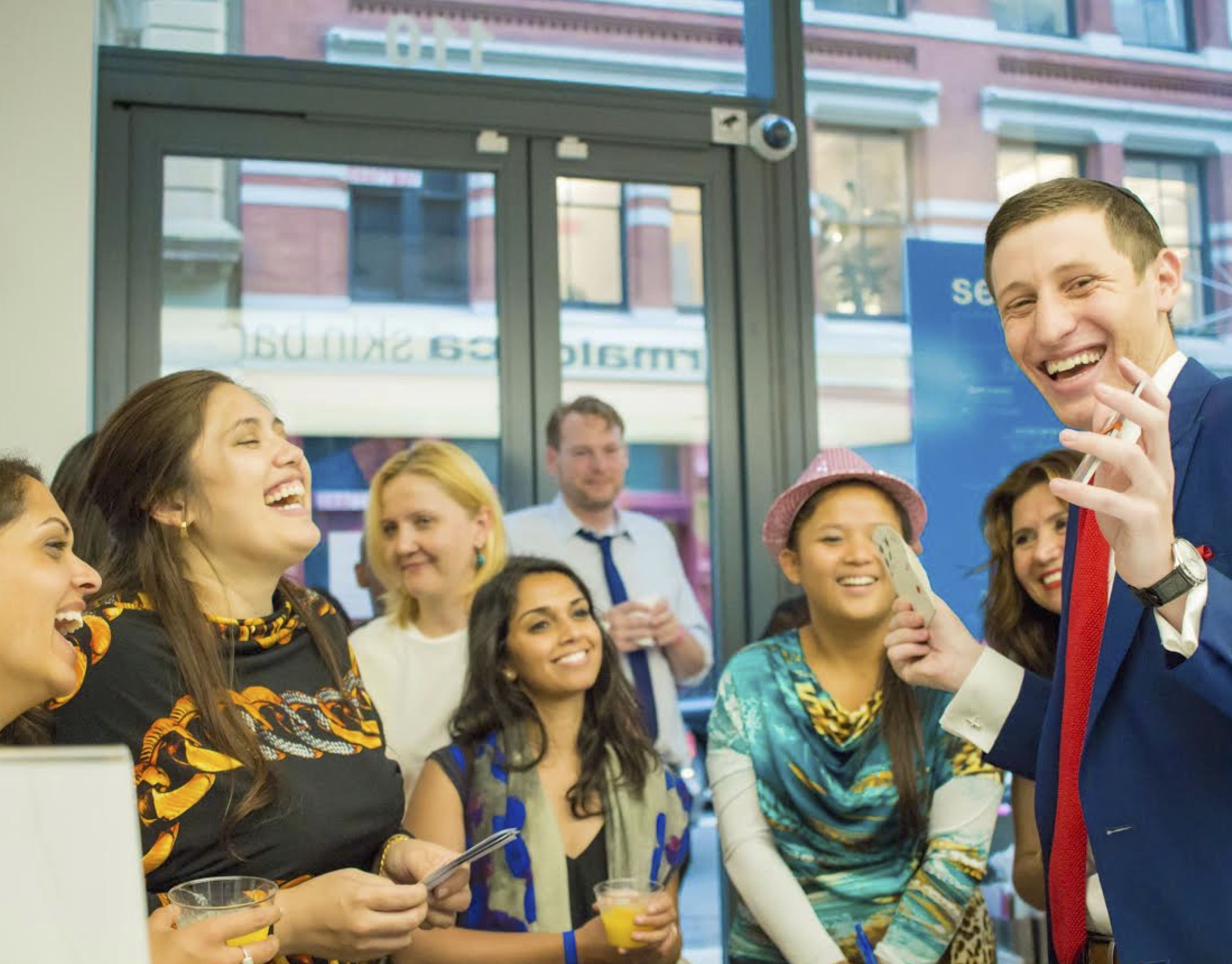 , My Hand On Heart Promise To You
I'm so confident that my magic show will make your guests laugh hard and be blown away in amazement at your event that I'm going to put my money where my mouth is by offering a 100% money back guarantee. My 100% Money Back Guarantee promises if this show is anything but fresh, funny, and unforgettable, you don't owe us a dime.  It's that simple.
Happy Clients
If these companies can trust Alex to make their events amazing, so can you!
What's Next?
Let's Make Your Event Unforgettable!
If you're ready to request a booking, please fill out the form below.
Don't delay, dates can book up at anytime.