HIS PASSION AND INTEGRITY CONTINUE TO PROPEL HIM TO THE NEXT LEVEL.
Alex Mehl
Illusionist
"Magic Mehl," aka Alex, is a professional entertainer based in the tristate area. Blending comedy and magic, Alex is best known for his ability to perform complex illusions. From children's parties to corporate retreats, from Eastern Long Island to the Middle East, Alex is internationally acclaimed for both his unique style and dazzling illusions.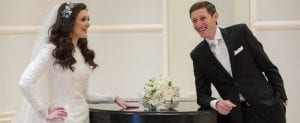 Even as a child, Alex knew that magic would be a part of his life. When he was three years old his father performed a magic show for him and his friends, and he still remembers some of the tricks! At the age of 13, his father was finally willing to share the secrets with him. Shortly thereafter, Alex decided to start putting on shows alongside his father. That was the start of an incredible journey that he is still enjoying today. He has spent many years developing his own skills and expertise, while consulting with world famous magicians and illusionists, to further develop a one-of-a-kind experience.
Performing magic for all types of audiences is Alex's passion. Magic started off as a way to have fun but quickly turned into so much more. There is nothing Alex enjoys more than seeing the smiles and laughter on people's faces when seeing magic and knowing that he is the source of it. Alex often takes opportunities to perform for sick or disabled children and their families in order to shine light and laughter into dark times.
"Magic can truly impact and make a difference in people's lives. It can be a source of inspiration. I see it happen all the time."
For Alex, magic is understanding what the power of imagination is and how suspending beliefs can reveal the child at heart. This is why Alex ends his shows telling his audience "Imagination can make magicians of us all."
Outside of performing, Alex loves animals, especially dogs. He had a Maltese named Rocky for thirteen years. He is also a tennis and piano player, as holds a black belt in karate. He married his beautiful wife Ilana in April of 2017. He and Ilana live in Kew Garden Hills, Queens, where their lives are truly magical.
Alex Mehl's events include: Birthday Parties, Bar/Bat Mitzvahs, Sweet 16's, Camps, Shuls, Anniversaries, Corporate and Not for Profit Events, and much, much more!
His passion and integrity continue to propel him to the next level.